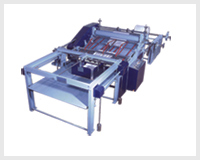 Heavy Duty Simplex Reel to Sheet Cutting Machine
Being a leading Manufacturer and Supplier of Printing & Packaging Machines, we are always strived to manufacture various kinds of robust and high-standard of Printing & Packaging Machines. One of such kind of Machines is Sheet Cutting Machine.
The machine is mainly designed for high-production and straight cutting of Sheet without damaging flutes & liner paper. It can also be synchronized directly with corrugation machine.  PIV chain gear boxes are also provided for adjusting cutting length of the sheet (44" to 74"). This machine will certainly enhance your productivity to a considerable extent and thus plays a decisive role in enhancing your profitability.
When it comes to its performance and durability then we must say the machine is most suitable for the purpose it is crafted. And it is highly durable in nature as we use good-grade of materials for its manufacturing, as a result, it will work efficiently for longer. So, one can say that purchasing this machine is similar to that one-time investment for business for a longer period.
We offer this machine at an economical cost so that small as well as medium Industries can also avail their businesses with this high performance and economical machine.