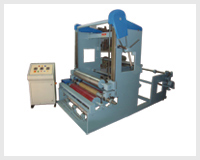 Slitting & Winding Machine
 Jandu Printing & Packaging Machines, being a leading manufacturer of Printing & Packaging       Machines offers a vast range of high-standard of Slitting & Winding Machines. Holding an expertise in this manufacturing sector, we bring forth only the quality range of these machines at an affordable price.
Using the top grade of raw materials in their manufacturing enables them to deliver high-performance for a long-time. As a result, you will get Slitting & Winding Machine comprising:
Durable
Performance-driven
Upgraded Technology Enrich
Effective Lifetime
 Furthermore, these machines possess a reasonable cost which is affordable for almost all sizes of Printing & Packaging Industries.
Order now to avail your Printing & Packaging Business with a vast and positive enhancement that will enable your business to gain a good marginal profit.